US-International Tournament 1 (USIT1) was the first event in the US-International Tournament Series. It was played on September 27, 2009 and was fun for the whole family.
Date: September 27, 2009
Time: 10:00PM EST
No. of Entrants: 11
Organizer: sandsfel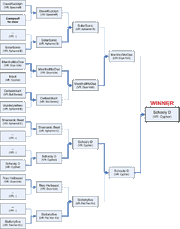 Click on a match to view the replay (bold = winner)
DaveRudolph (SPC) vs. Campsuff (NS)
SolarSonic (APB) vs. Bye
Shamanic Beat (APC) vs. Bye
Schooly D (CYP) vs. Bye
Neo Helbeast (GRY) vs. Bye
Sixfortyfive (FEI) vs. Bye
Community content is available under
CC-BY-SA
unless otherwise noted.